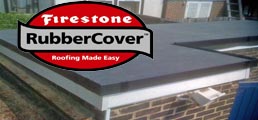 Flat Roofing
JCS are able to supply and fit Firestone EPDM rubber flat roofing.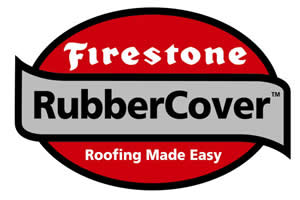 Firestone offers performance and specification second to none – this synthetic membrane will not tear, split or crack and is unaffected by ozone and UV light. It is designed to outlast all conventional roofing materials.
What is Firestone EPDM?
Firestone Ethylene Propylene Diene Monomer synthetic sheet rubber membrane is a remarkable material that:
• Repels all moisture, snow and rain.
• Is flexible and easily bends with no stress, to follow the contours of the roof, up stands to walls, check curb edges, skylights, pipes, terminations into gutters and the like.
• It can stretch with up to 300% elongation, which easily accommodates building movement.
• Is not affected by extremes of temperature.
• Will not tear, split or crack with age.
• Is manufactured in very large sheet sizes up to 15 metres wide by 61 metres in length.
Are EPDM synthetic rubber roofing membranes new?
No. The first synthetic rubber membranes, developed in America by Carlisle-Syntec™, were laid in the 1960's and are still protecting flat roofs some 40 years later. Firestone have been laying roofs since the 1980s and hundreds of thousands of roofs have been installed.
How long will a Firestone EPDM roof last for?
All evidence, real life exposure, and laboratory tests suggest that when correctly installed, a Firestone roof will last in excess of 40 years. Studies in Germany have proved that the life expectancy of a Firestone EPDM roof covering would be in excess of 50 years.
How proven is EPDM?
Over one billion square metres of EPDM have been installed worldwide from the glaring sun of the Middle East to the Arctic conditions of Alaska. Over One hundred million square meters will be installed this year. Installations include the McLaren Formula 1 Headquarters in England among many others.
Is Firestone EPDM synthetic rubber membrane suitable for my flat roof?
EPDM rubber is suitable for virtually all flat and low sloping roofs.
Are all roofing surveys free and without obligation?
Yes. JCS offer a full service including:
• Design and specification
• A written quotation
What does Firestone EPDM look like?
It has a smooth near black finish.
Can I walk on it?
Yes, it is resistant to foot traffic for day to day maintenance of guttering and so on. For heavy usage such as roof patio areas it can be overlaid with a variety of durable finishes, such as paving slabs, timber or plastic decking among others.
Is Firestone EPDM expensive?
No, despite its considerable technical advantages it compares well with other quality roofing systems and because of its long life span will often work out to be much cheaper over time.
Is Firestone environmentally friendly?
Firestone EPDM is an inert material with limited environmental impact during manufacture and use of the product. The Greenpeace publication "Building The Future" names EPDM as the environmentally friendly choice for roofing membranes. Firestone Building Products' commitment to the environment is reflected in the ISO14001 certified Environmental Management System implemented at all of Firestones's EPDM manufacturing plants. Finally the Danish Environmental Protection Authority recommends EPDM as an alternative to PVC.
If EPDM is so good why isn't everyone using it?
A growing number of people are! However until recently it was perceived as a high performance commercial product. Now however with the growth in properly trained domestic installers it is getting more widely recognised as being perfect for domestic installations as well.